$

30.00
SIGNED- Two Birds One Stone CD Combo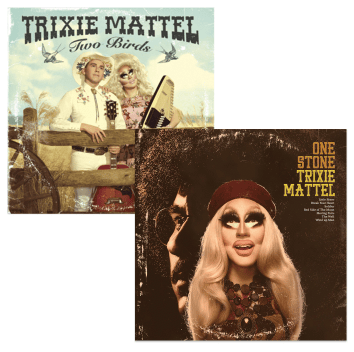 Kill Two Birds with One Stone, and get both!
Both copies will come signed, at a discounted price!
Two Birds CD by Trixie Mattel
1. Mama Don't Make Me Put On The Dress Again
2. Make Up Your Mind
3. I Know You All Over Again
4. Seen My Man
5. I'll Wear Your Ring
6. Bluegrass
7. Seen My Man (Wisconsin Demo)
One Stone CD by Trixie Mattel
1. Little Sister
2. Break Your Heart
3. Soldier
4. Red Side of the Moon
5. Moving Parts
6. The Well
7. Wind Up Man
Orders usually leave the warehouse within 5 to 7 business days.
*All sales final. No refunds or exchanges.
*Customs fees may apply for international orders.
IMPORTANT NOTICE FOR AUSTRALIAN ORDERS - As of July 1st, 2018, all imports into Australia will be subject to a new 10% GST tax. No refunds will be issued for a failure to pay import taxes. Please visit our Shipping and Return Policy page for more information regarding this new rule implemented by the Australian government: https://trixiemattel.bigcartel.com/shipping-and-return-policy